KCV and Carer KaFE present two new seminars on diet & nutrition for carers - in Geelong on Tues 17 Oct and in Dandenong on Tues 21 Nov
KCV and Carer KaFE present two new seminars on diet & nutrition for carers - in Geelong on Tues 17 Oct and in Dandenong on Tues 21 Nov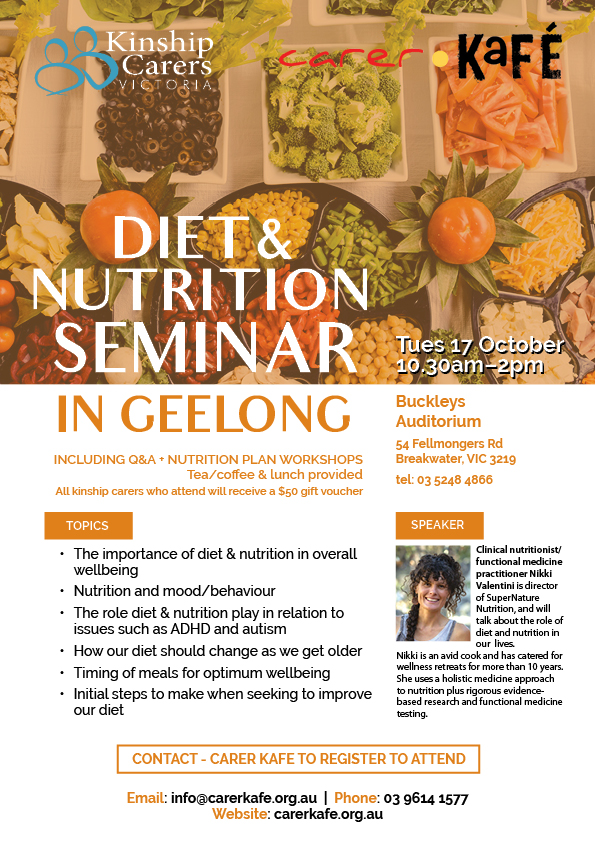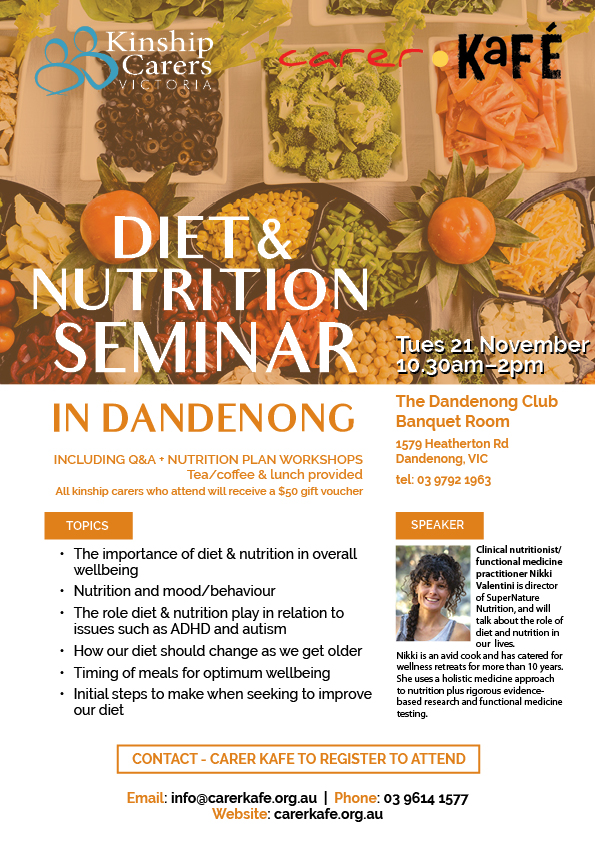 TOPICS COVERED

• The importance for carers in taking responsibility for their own wellbeing
• How carers can develop their own personalised wellbeing plan
• The secrets to building and maintaining resilience over time
• The importance of approaching each day and week in a sustainable way
• Avoiding burnout as a carer
SPEAKER
Clinical psychologist Dr Damon Ashworth
Tea/coffee & lunch provided
All kinship carers who attend will receive a $50 gift voucher
Summary of Yoorrook Justice Commission Report into Victoria's Child Protection and Criminal Justice Systems
The second report of the Yoorrook Justice Commission focuses on the past and ongoing systemic injustice experienced by First Nations communities within Victoria's child protection and criminal justice systems.
Structure of the report
The report is divided into seven parts:
Part A includes the Letter of Transmission, Chairperson's foreword, and a brief introduction to the report's methodology and terminology.
Part B includes an Executive Summary, list of recommendations and key facts.
Part C examines the historical foundations of the child protection and criminal justice systems.
It then goes on to discuss matters for Treaty in relation to child protection and criminal justice.
Part C concludes by examining consistent themes in evidence to Yoorrook that span both the child protection and criminal justice systems. Whole of government recommendations to address these issues are made.
Part D examines critical issues in the child protection system.
Part E adopts a similar approach to the criminal justice system. Following a brief overview, each of the major parts of that system are considered. Key systemic injustices are identified, findings made, and recommendations for urgent action put forward.
Part F considers other issues that have arisen during this stage of Yoorrook's work, including legislative barriers to Yoorrook properly fulfilling its truth-telling mandate.
Part G contains appendices to the report, including a list of witnesses and a glossary. Further information relating to the child protection and criminal justice systems is also provided.
To download/read the full summary of the Yoorrook report, click here.
A week to acknowledge the role kinship carers play in raising many of Victoria's children and to celebrate kinship carers in the community.
Hon Lizzie Blandthorn MP
Minister for Disability, Ageing and Carers
Minister for Child Protection and Family Services
Principle Commissioner for Children and Young People, Liana Buchanan
KCV's new telephone number is 0499 969 234
KCV's new telephone number is 0499 969 234
KCV Wellbeing Podcast #8 – Nutrition
What are the latest trends in nutrition? What does recent research say about what and how we should eat? And what the children in our care, in particular those children with neurodevelopmental disorders, should eat?
In this podcast we speak again with Nikki Valentini, Clinical Nutritionist, functional medicine practitioner and director of SuperNature Nutrition on a broad range of current topics regarding nutrition. Nikki answers some of the more common questions from carers and others regarding this topic.
Carer Resources
Resource Booklets for Kinship Carers
Kinship Carers Victoria is excited to launch its new series of Carer Resources Booklets for kinship carers. These resource booklets contain lists of current government and private organisations providing valuable information, support and services for carers and the children/young people in their care.